These marches were a "push back" to the House bill, said Fox.

He said the message of Mexican immigrants at these marches was: "We are not criminals. We are your neighbors."

"Rather than being a threat, Mexican migrants are increasingly joining U.S. society," he said.

The study cited research on Mexican immigrants, but said that many of the general conclusions about them could be applied to other Latin American immigrants.

It said that churches "reaffirm old traditions, practices and beliefs from migrants' countries of origin, and simultaneously expose migrants to the culture, institutions and traditions of their new home."

The study cited surveys reporting that almost 75 percent of Mexican immigrants are Catholic.

Churches attract Mexicans because they "often provide a place of refuge and encounter for recent immigrants from similar backgrounds, provide tangible services to help them adapt to their life in a new country and offer a sense of community to those far from their place of origin," the study said.

Mexicans are also changing U.S. Catholic and Protestant churches "bringing their own practices and worldviews into their religious communities," it said.

Because Catholic and Protestant churches are international as well as local, they play a vital role in keeping immigrants in contact with their hometown churches and "in helping their home communities in Mexico," it said.

The study cited a case in a small Mexican town where, through the local Catholic parish, Mexicans in the U.S. who sent money back to relatives in the town started changing their approach to how the money was used.

At first it was spent to improve the local infrastructure and beautify the town, said the study.

But townspeople continued to emigrate to the U.S. for better economic opportunities sparking a rethinking of how to use the money sent back from the U.S., it said.

Local residents and those who left for the U.S. "realized that they needed to think of something more and began to develop a series of productive projects to generate employment so that others would not need to leave the town" and some might even be able to return home, it said.

"It points to the role that the Catholic Church - as well as Protestant congregations - can play in engaging migrants as co-participants in strategies for development across borders," it said.

The authors of the study were Fox; Andrew Selee, Mexico Institute director; Xochitl Bada, Latino studies professor at the University of Notre Dame in Indiana; and Gaspar Rivera-Salgado, director of the Transnational Communities Program of the New Americans Immigrant Museum and Learning Center in San Diego.
- - -

Copyright (c) 2007 Catholic News Service/U.S. Conference of Catholic Bishops
Study: Catholic churches key in integrating immigrants into U.S.

Reprinted with permission of Catholic Online www.catholic.org Article provided by Catholic.org

By Agostino Bono
8/21/2006
Catholic News Service (www.catholicnews.com)

WASHINGTON (CNS) - U.S. Catholic and Protestant churches are major channels for integrating Mexican immigrants into U.S. society and helping them participate in political life, said a new study by the Woodrow Wilson Center's Mexico Institute.


They also help Mexicans reaffirm their national identity in their new world and help immigrants advance their social and political concerns in the U.S., said the study, titled "Invisible No More: Mexican Migrant Civic Participation in the United States."

Churches "appropriate symbols and patterns of worship from migrants' hometowns in Mexico but tie the worship to the issues that migrants face in the United States and build capacities to address these proactively," it said.

As an example of how the Catholic Church is promoting Mexican immigrant social and political agendas, the study cited the U.S. bishops' campaign for comprehensive immigration reform.

The study was released Aug. 17 by the Washington-based Wilson Center, a nonpartisan think tank, and is based on research papers presented at a conference last November. The papers discussed how churches and other U.S. organizations were helping Mexicans become part of U.S. society.

The study said that more than 11 million people in the United States were born in Mexico, which is about 3 percent of the U.S. population.

Through churches, unions, worker rights organizations and Spanish-language mass media, Mexican immigrants are increasingly participating in U.S. society, said Jonathan Fox, one of the study's authors, during the teleconference to release the study.

Even though many immigrants cannot vote, they are finding other forms of participating in political life through these organizations, said Fox, a professor of Latin American and Latino studies at the University of California at Santa Cruz.

As an example, he cited the marches last spring across the United States demanding widespread immigration reform after the House of Representatives passed a bill that emphasized border security and enforcing laws against illegal immigrants.
WOMAN HOLDS MEXICAN FLAG AT MASS - Jennifer Villatoro holds the flag of Mexico during a special Mass celebrating Hispanic heritage at St. Hugh of Lincoln Church in Huntington Station, N.Y., in October 2005. A new study points to churches as major channels for integrating Mexican immigrants into U.S. society.
(CNS/Long Island Catholic)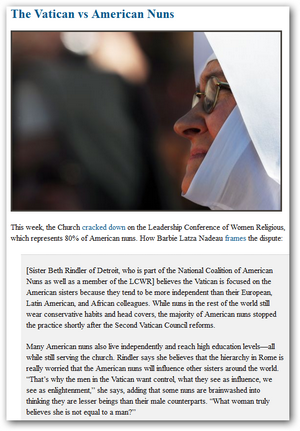 The Vatican vs American Nuns
link to story